"I want to inspire people. I want someone to look at me and say, 'Because of you I didn't give up.' "
Originally from Bonnots Mill, Missouri, Kelsey's experience with horses started at 11 years old when she got her first horse, Lightning—she still has him to this day.
In 2011, Kelsey saw a trick riding performance for the first time at BreyerFest. Since then she's not only learned to trick ride, Roman ride, and train horses, but she's also won multiple trick riding competition titles:
2015
 International Trick Riding Team Champion - Trixie Chicks (Lindale, TX)
International Trick Riding Women's Champion (Lindale, TX)
2016
International Trick Riding Open Champion (Lindale, TX)
NFR WildCard Recipient (Lindale, TX)
Calgary Stampede Canadian Trick Riding Competition Open Champion (Calgary, AB, Canada)
North American Trick Riding Championships Open Women's Champion
2018
International Trick Riding Open Champion (Athens, TX)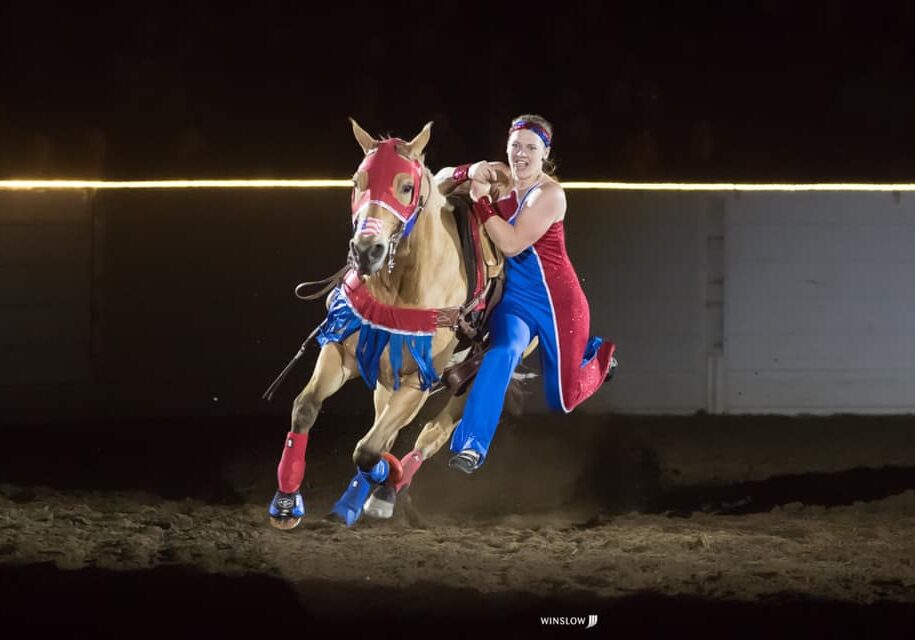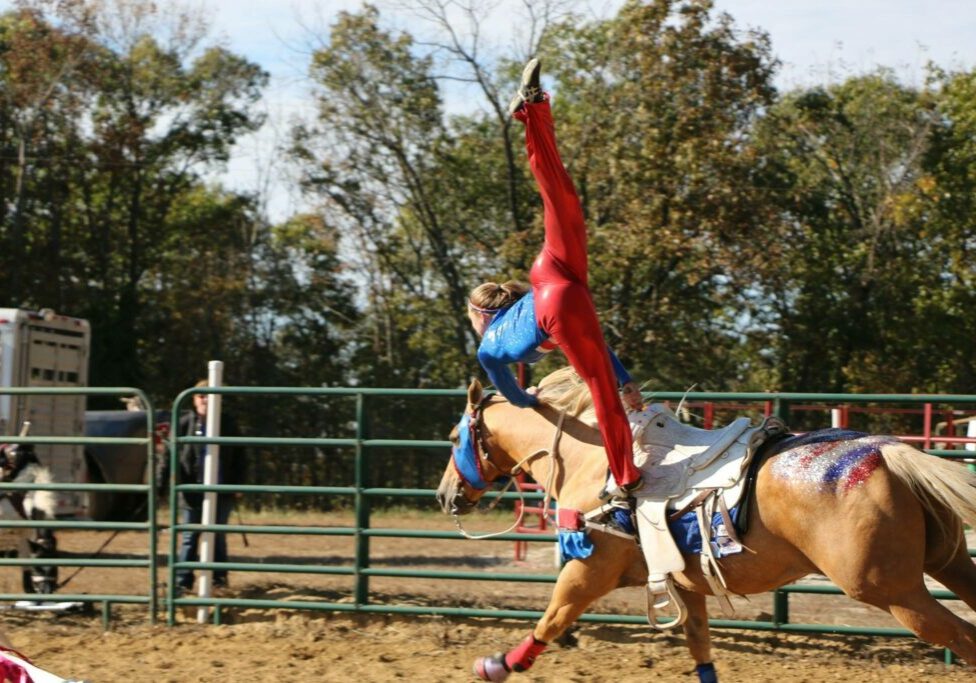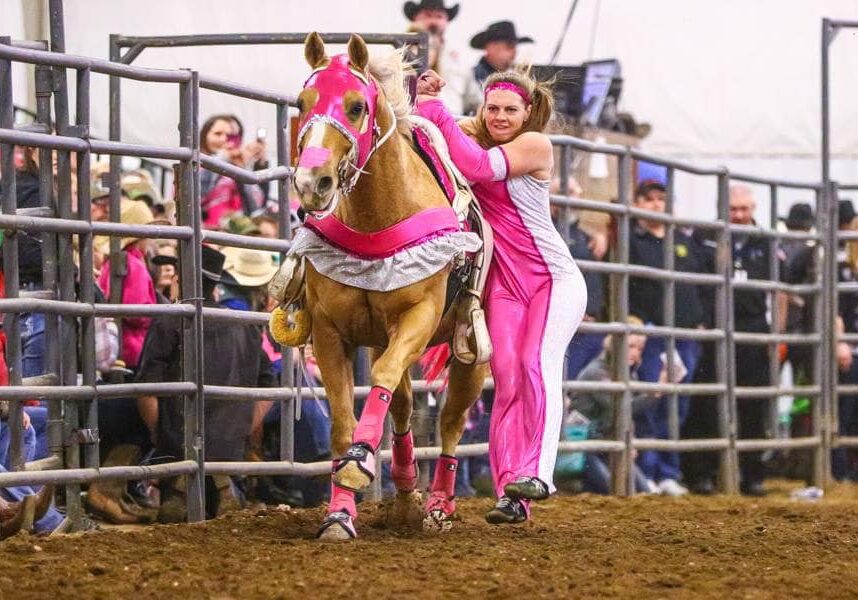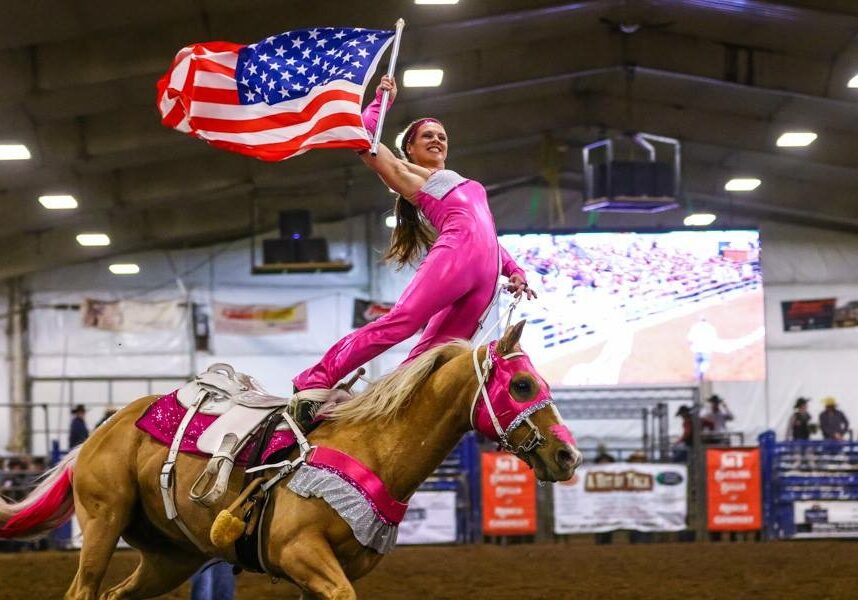 Along the way, Kelsey also got her Bachelor's in Animal Science with minor in Equine Studies and emphasis in Agriculture Business & Communication as well as a Master's Degree in Equestrian Education.
Kelsey loves to share what she's learned with up-and-coming trick riders through the Trixie Chicks sponsored rider program as well as clinics around the United States and internationally.
When not on the road performing or teaching, Kelsey manages Gascon Horsemanship's Training Facility & Academy and travels with her husband, The Horse Guru - Michael Gascon, to give horsemanship clinics around the world and fix the world's most problematic horses.
Kelsey's Trick Riding Training
Miko McFarland (2012, 2013, 2014, 2015), Red Top Ranch Trick Riding School (w/Karen Vold, Linda Scholtz, Melissa Pfaff, Candy Rodewald & Ryan Rodewald) (2013, 2014, 2015, 2016, 2017), Austin Anderson & Texas Trick Riders (2014, 2015), Madison MacDonald (2014, 2015, 2016), Ginger Duke, Josey Lynn & Dynamite Dames (2014), J.W. Stoker (2014), Jerri & Staci Diaz (2014, 2015), S. L & Loretta Pemberton (2016), Vicki Tyer (2016), and Rae-Lynn Armstrong (2016), Tad Griffith (2017)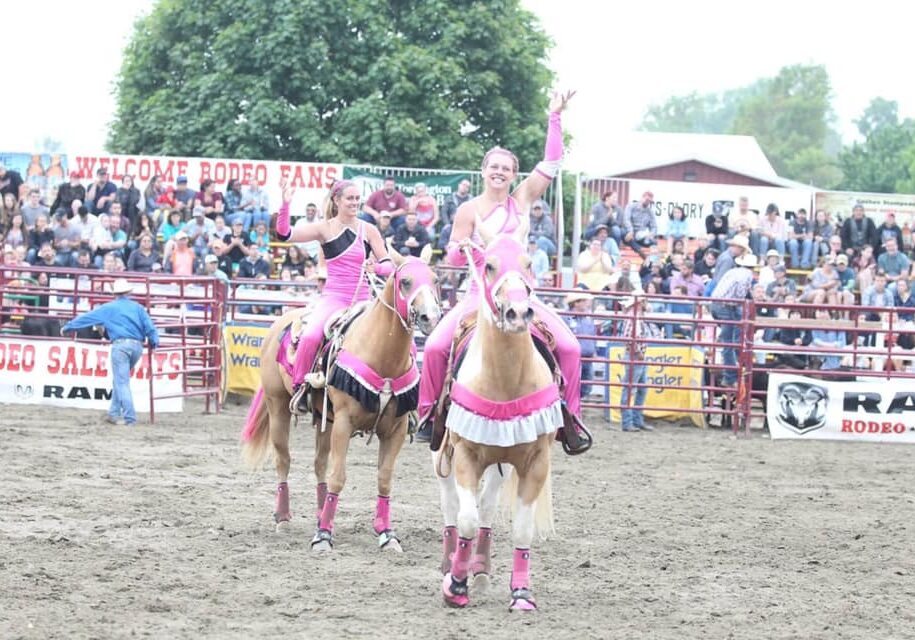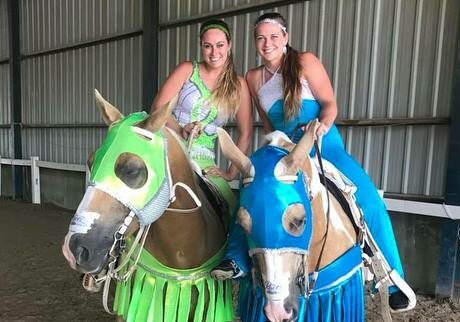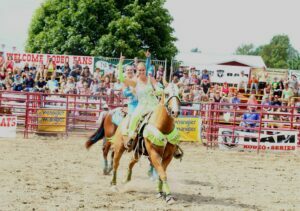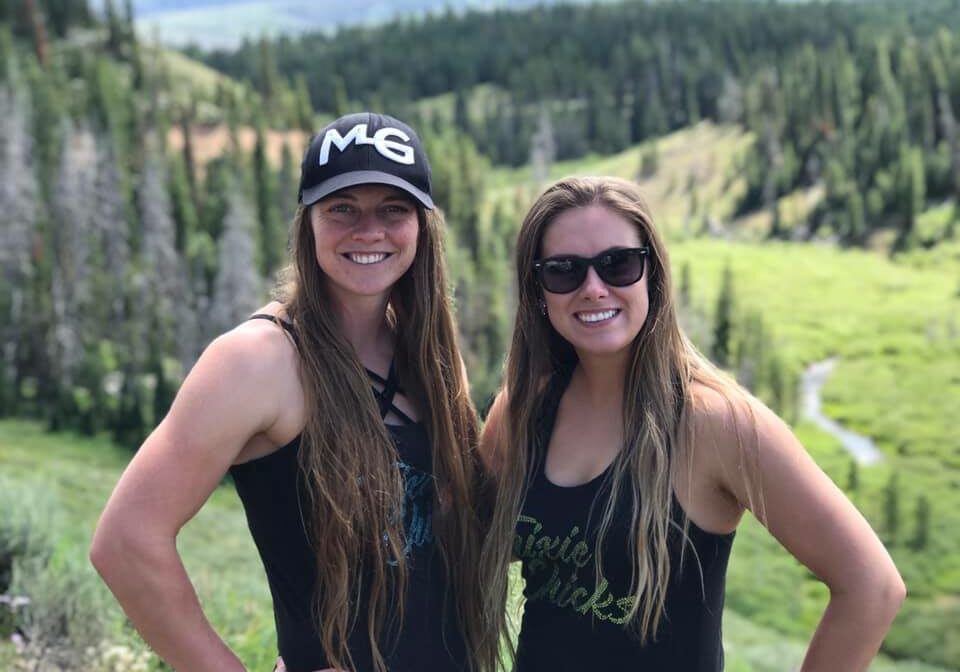 "I love sharing my passion for horses through trick riding to audiences across the world and future generations of trick riders!"
Shelby grew up in Willard, Missouri and has been riding horses since age 2 when she could sneak to the neighbor's house to ride their pony. She's trained all of her own horses since age 6 and grew up traveling the country performing on an equestrian drill team and learning horsemanship skills from world-renowned trainers covering numerous disciplines.
Fun fact—Shelby's very first trick riding performance was as part of the 2010 World Equestrian Games.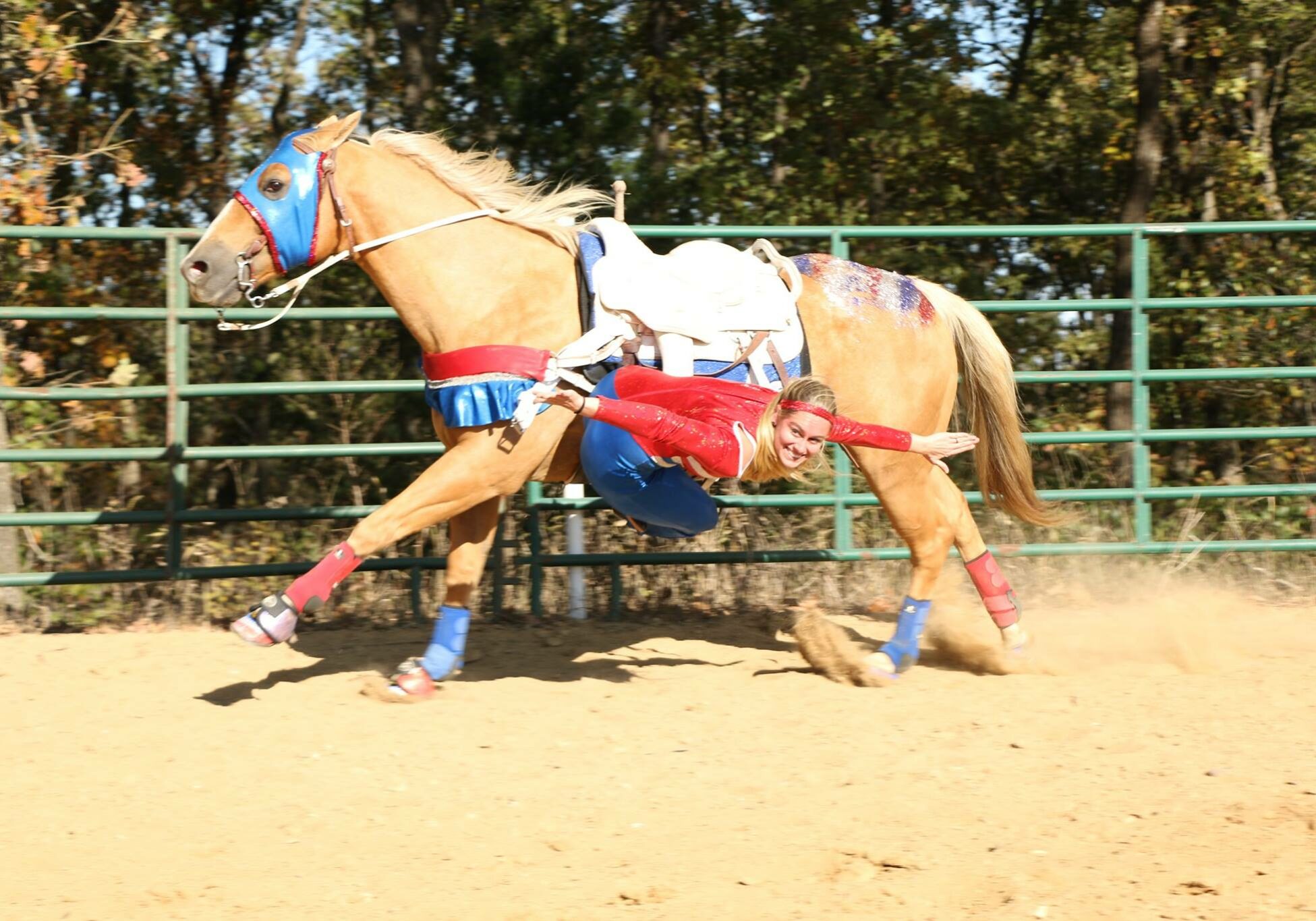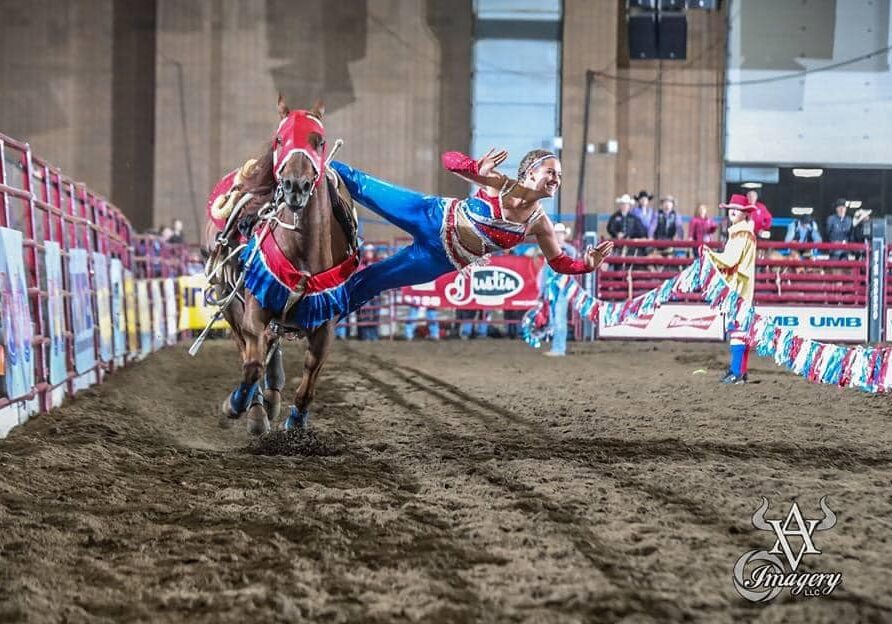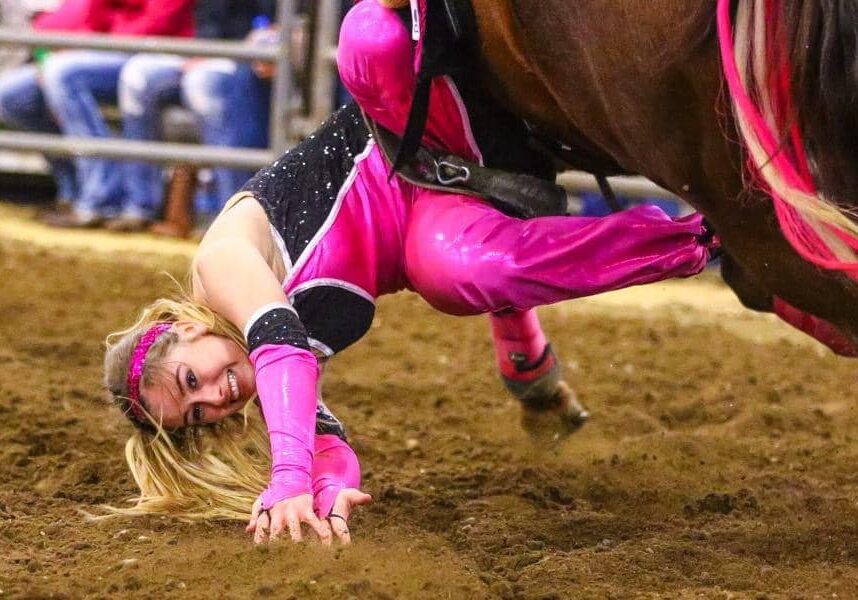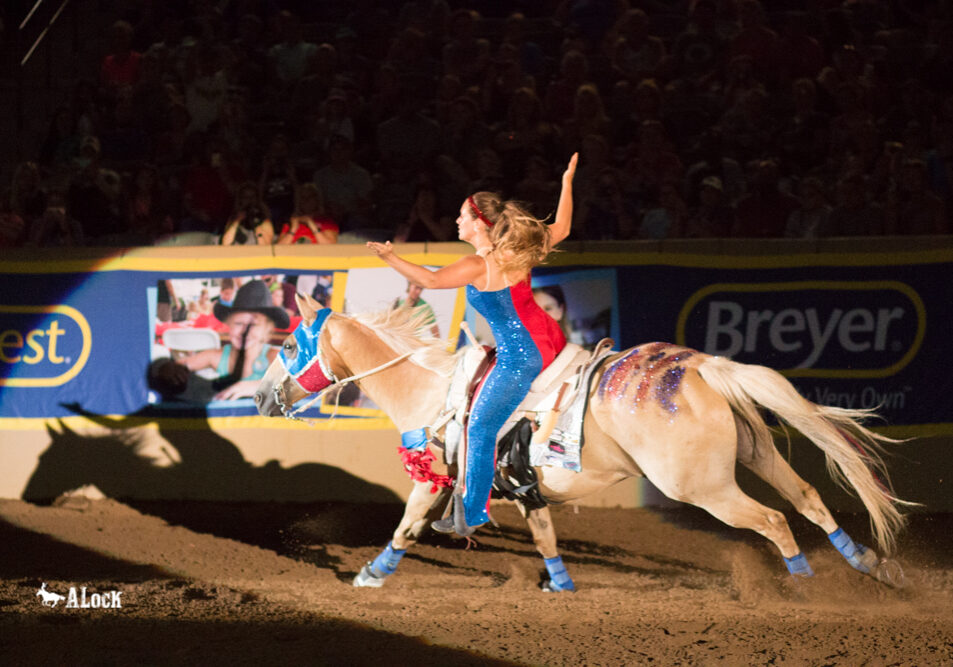 As the original founder of the Trixie Chicks, Shelby met Kelsey in 2012 when she was doing a demo at Missouri State University where they both attended college. Shelby graduated with a Bachelor's Of Science in Agricultural Business - Enterprise Management with an emphasis in Animal Science.
After meeting, Shelby invited Kelsey to join the team. Together, they've built the business, allowing them to become Professional Rodeo Cowboys Association members and perform full-time on the road together prior to moving to Mississippi. They now perform together at all of their events and train their sponsored riders.
When not on the road performing or teaching, Shelby works at Gascon Horsemanship as Kelsey's best friend, right-hand lady, and Administrative Coordinator.
Shelby's Trick Riding Training
Miko McFarland (2010, 2011, 2012, 2013, 2014, 2015), Red Top Ranch Trick Riding School (w/Karen Vold, Linda Scholtz, Melissa Pfaff, Candy Rodewald & Ryan Rodewald) (2011, 2012, 2013), Austin Anderson & Texas Trick Riders (2014), Madison MacDonald (2016)